Chart of the day: Looking to 2018, marketers were asked which tactics will be used in their digital marketing strategy for 2018
Social Media Marketing (18%) Content Marketing (17%) and use of Marketing Technology (16%) are expected to be included the most in digital marketing strategies in 2018.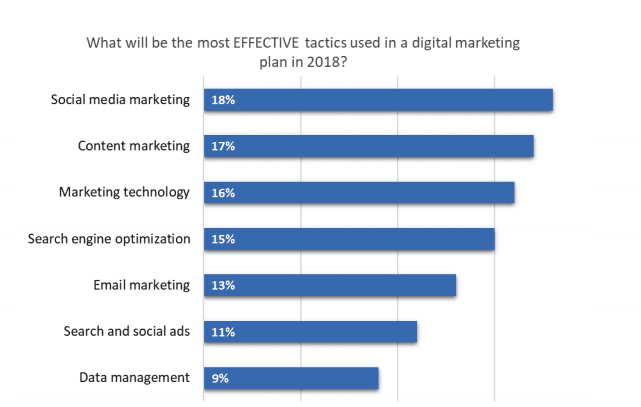 Least used will be data management as well as paid search and social ads.
The research suggests there will be a shift from the previously popular use of paid search and social media advertising, to increased use of marketing technology, content marketing and organic social media. We already know content is king, as in a previous chart of the day we reported that research reports used for content marketing are the most successful for generating a return on investment.
SEO is still and I predict, always will be very important. It might never be top of the most used tactics, but it's never going to be the bottom. A strong SEO strategy will provide long terms gains, but it's high effort and results are slow. Content marketing and paid media provide returns and results quicker.